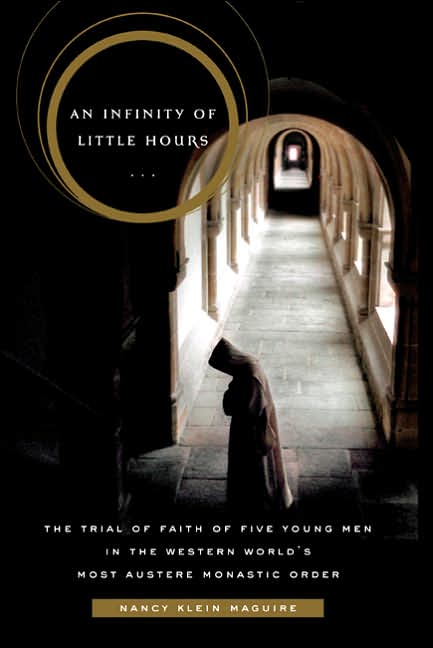 The full title of this book is
An Infinity of Little Hours: Five Young Men and Their Trial of Faith in the Western World's Most Austere Monastic Order
by Nancy Klein Maguire. Can you tell from the title that this is no ordinary piece of fiction? Well it's nonfiction, that's why...
This book charts the progress of 5 young men who enter a Carthusian monastery in England called Parkminster. They come from America, Ireland, and Germany with varying experiences and backgrounds. In fact one of them falls in love with a woman on his boat ride to England and almost doesn't enter the monastery.
The events take place in the early 60's, but once setting foot in Parkminster, the men find that they could be in the early 1000's when the Carthusians first became an order. By entering, the men agree to cut off almost all communication with the outside world, sit in a house and pray, read, meditate, and garden with daily masses that are mostly devoid of personal human contact. They also give up their names--Paddy becomes Dom Leo, Bernie Dom Malachi and so forth. Once a week the men get to go on an outing and talk with the other men in their one opportunity to connect and get outside the monastery walls.
As the men progress from the first mandatory month of retreat and then become novices, and move closer to making their solemn vows (which mean they commit to spend their lives as Carthusians) they each face challenges with the live of solitude and reflection.
Klein, who is married to a former Carthusian, researches the history and life of this monastic order well and it is pretty interesting (except for the whole chapter that outlines every second of a mass), but she fails to build the suspense I wanted-- Will Dom Phillip be able to stand off-key singing for the rest of his life (it sounds funny, but think about it)? Will Dom Malachi return to the girl he left behind? Will any of them hear from God? Will their faith be shaken when it's just them and silence?
Even with its faults, I thought this was a thought-provoking read as I try to slow my mind down and focus more on God in the silence of my empty apartment. For the men in the book who did not make solemn profession, they still seemed monks at heart. Their years at Parkminster greatly changed them and, I think, gave them a greater ability to be silent and more at rest with God and their own thoughts.