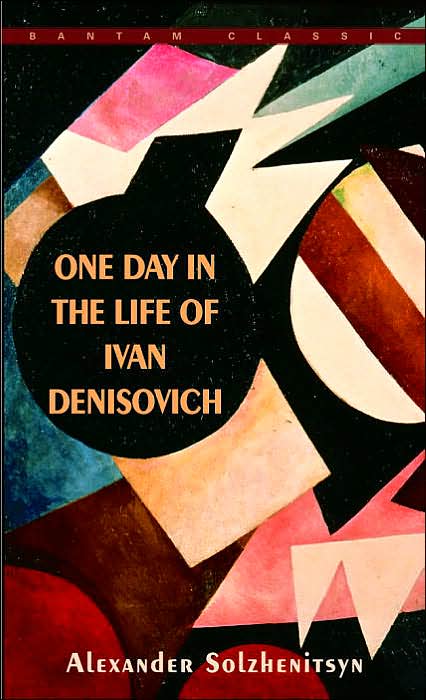 Nothing like Russian lit to darken those bright, crisp autumn days. Why did I decide to read a Russian novel about a guy in a labor camp this side of January? At least it was short.
Ok. I'm exaggerating.
One Day in the Life of Ivan Denisovich
by Alexander Solzhenitsyn is not the world's most depressing Russian novel, and as the title suggests, it's about one day in this man's life. The narrative follows Ivan Denisovich from morning to night as he survives another day in a communist labor camp–a place where it seems no one is actually guilty of crimes against the Soviet empire.
This was Solzhenitsyn's first novel, published while the USSR remained intact and published because Khrushchev saw it as a way to separate himself from Stalin's policies. Probably everyone in Russia could relate to the story because either they themselves or a family member had been in one of the camps. And perhaps its most enduring legacy is that it was published during Communist rule.
The story itself is nothing particularly miraculous. After years shuttled from camp to camp, Ivan has learned how to survive in the harsh Siberian climate. Life is not at all fair and he hasn't forgotten it, but there is no sentimentality that connects him to his old life. He is there indefinitely and he lives as well as he can. He does odd jobs to raise a few rubles for his cigarettes. He works hard. He has neither optimism or pessimism. He is a fairly decent guy, in a situation that he cannot extricate himself from.
It's hard for me to say anything else about the novel. To me, it seemed pretty cut and dry and it's message was as well. No faulting that... I would be interested in reading more Solzhenitsyn and perhaps a newer translation...my copy was published shortly after it made waves in Russia...
Reading next:
Let the Great World Spin
by Colum McCann